Wine Walk
Friday, November 17, 2023 6pm to 9pm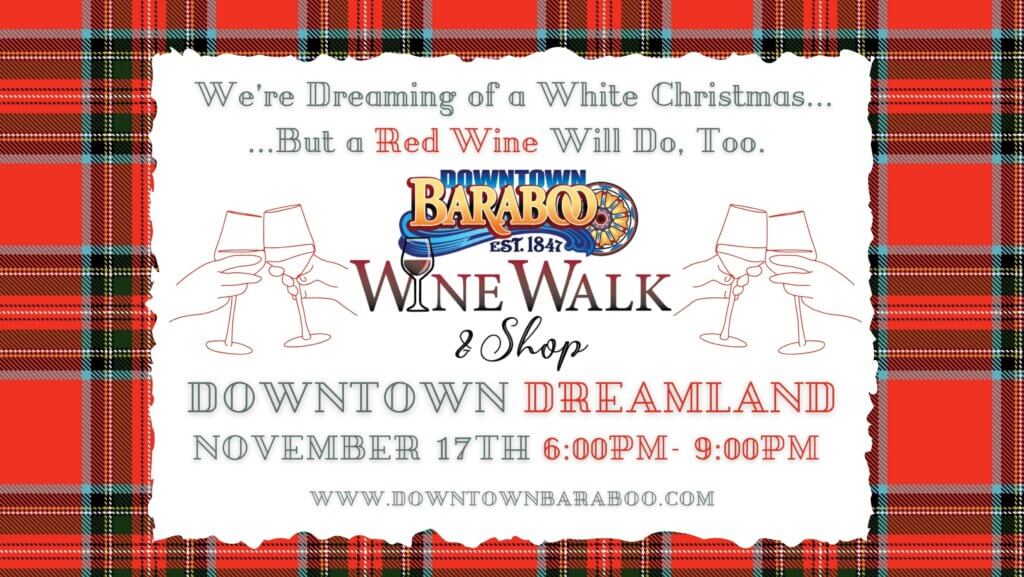 Have the best of both worlds: Sample delicious wines and shop local businesses! Taking place twice a year, a number of merchants in Downtown Baraboo take part in our beloved wine walks. Each location will have two wines (1 white and 1 red) for sampling. A wine walk map will be provided for note taking on which wines you liked or disliked. As you venture from one stop to the next, each stop also caters some delicious treats to pair with your wine sampling. While your also having your tastebuds enjoy the sampling of food and drink, roam about the businesses serving as a wine stop and see some of their wonderful merchandise! The winter wine walk is "Downtown Dreamland": The most snuggly, comfortable wine walk to ever take over the downtown scene!
Tickets on Sale October 17th at 9:00am at Bekah Kates on 117 3rd St. Baraboo, WI 53913. Online ticket sales will start at 10:00am that same day on Eventbrite. Wine Walk tickets are $45/person (limit four per person). Designated Driver tickets are $15/person. If purchasing tickets in person, can only take cash or check. All SALES FINAL.
Tickets go on sale exactly one month prior to the event – tickets sell quickly, so be sure to purchase your tickets right away!
For more information on the spring and winter wine walks, please check out the FAQ events link here: https://www.downtownbaraboo.com/event/wine-walk/