Christmas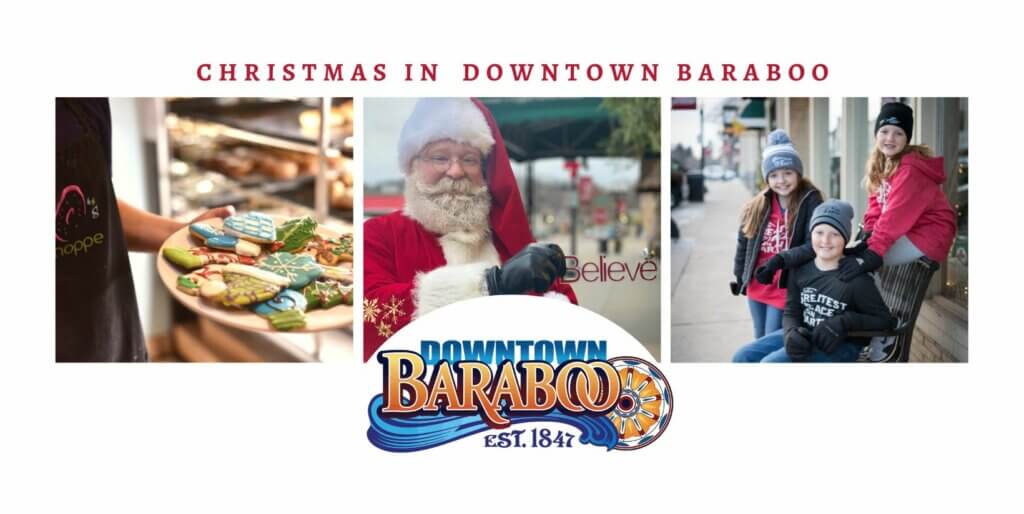 Christmas in Downtown Baraboo
Experience the Magic of Christmas in Downtown Baraboo with 5 weekends of family fun, kicking off the weekend before Thanksgiving and running through Christmas. Each weekend features a different holiday themed activities and FREE Horse Drawn Wagon Rides and Visits with Santa at the Historic Al Ringling Theatre from 11-2 every Saturday. Downtown Baraboo features over 40 locally owned stores filled to the brim with locally created, thoughtful & unique gifts for everyone on your list.
Holiday Wine Walk & Shop
Downtown Baraboo Spring Wine Walk Tickets will go on sale Tuesday, October 18, 2022.
Tickets will be sold in person at 9am at Bekah Kates in Downtown Baraboo and the remaining tickets will be sold here Online at 10am on Tuesday, October 18, 2022.
Experience the Magic of Christmas in Downtown Baraboo with friends while walking the streets of Downtown Baraboo, shopping the stores and sampling some delicious varieties of wine. The stores will welcome you with their specific theme, wine samples, and snacks and horderves. Additionally, the wine walk serves as an opportunity to get ahead on your Christmas shopping and find some of the most magical deals that each shop has to offer.
2022 Downtown Baraboo Wine Walk: '80s Movie Night tickets go on sale on Tuesday, October 18th at 9am at Bekah Kate's (Kitchen, Kids and Home) and 10 am online.
Christmas Light Parade
Saturday, November 19 @ 6pm
Don't only experience the magic, but find yourself believing in the magic of Christmas in Downtown Baraboo as we kick off the season with a magical display of beautifully lighted community floats, each handcrafted by local business and non-profit organizations. Be mesmerized by the twinkling of lights and musical numbers from marching bands that welcome one and all to our community. The parade tradition is not complete without the appearance of the one and only Santa Claus as he is escorted by horse drawn circus wagon through the parade route and to the Al Ringling Theater. Santa is then lifted by the aid of the Baraboo Fire Department Ladder #1 Truck to the top of the historic theater marquee to light the community Christmas tree.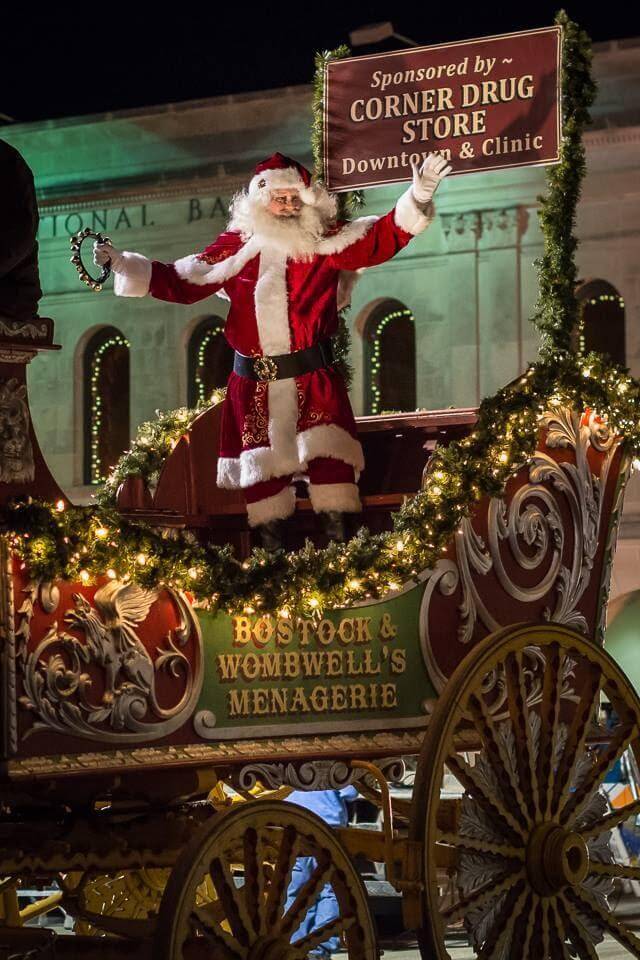 Black Friday in Downtown Baraboo | Friday, November 25
November 25th | Sales Start at 8am and extend though the day, watch for details to be released on Tuesday, November 22, 2022.
There's no better way to get ahead of the Christmas shopping season than getting to the Black Friday deals in Downtown Baraboo. Sales start at 7:00 am and extend all day (please check with your favorite store(s) for their specific sale hours, some of the biggest sales only last until 10am). Shop your favorite Downtown Baraboo Stores at the deepest discounts of the year for a few hours only.
Small Business Saturday | Saturday, November 26
We always pride ourselves in celebrating our locally owned businesses every day, but on the last Saturday of November we participate in Small Business Saturday. This initiative created in 2010 by American Express helps promote the small businesses in an effort to promote local and make a profound impact in your community. Walk the downtown streets and pop into each store, show your appreciation and support for each of these remarkable businesses that make Baraboo magical!
You might not realize it, but every time you pick up a cup of coffee from your favorite neighborhood cafe or buy a gift from a local artist's online store, you're shopping small and making a difference.
Downtown Baraboo Holiday Open House | Saturday, December 3
The first weekend in December is Open House weekend, and we pride on it being your home for the holidays. Shop the streets of Downtown Baraboo to find the perfect gift from one of our amazing 40 locally owned stores that will be finely decorated for the holiday season. Our stores pride themselves on hand selecting locally made, unique & perfect gifts for everyone on your shopping list.
FREE Horse drawn wagon rides around the square and visit Santa at the Al Ringling Theater 11-2 every Saturday until Christmas.
Very Merry Weekend and Historical Society Holiday Open House
Saturday, December 9-10-11
Celebrate locally crafted gifts from over 40 stores in Downtown Baraboo. The Very Merry is a Holiday Fair Held December 9 & 10, 2022. In the Baraboo Arts Building 323 Water Street, Baraboo, Wisconsin. With over 60 working artisans selling and showcasing their beautifully designed products. It has excellent support form the community and there are many Holiday events going on in Baraboo on this weekend in December.
Sauk County Historical Society: Christmas at the Van Orden Mansion
Tour the Van Orden Mansion and see just how magical the Sauk County Historical Society and its volunteers make this historic mansion decorated for the holidays. Book a time slot for a small group and enjoy a self-guided Magical Mansion Tour. A new group will be allowed into the museum every 10 minutes. Plan at least an hour for your self-guided tour.

When | December 12th – 2 pm – 6 pm
Where | 531 4th Avenue, Baraboo, WI 53913
Live music and homemade holiday treats to take home
Free to members, $7 for adults, 12 and under free
Gnome for the Holidays with Family Scavenger Hunt
Saturday, December 17
A Weekend especially for Families in Downtown Baraboo.
Celebrate this Holiday season with the whole family while you shop over 40 locally owned stores in Downtown Baraboo. Join in the fun while shopping with the 1st ever Elf on the Shelf scavenger hunt.
The Stores in Downtown Baraboo host a special weekend just for families to finish up ( or start) their Holiday Shopping. Some stores will have tables specially designed for our youngest Shoppers.
FREE Horse drawn wagon rides around the square and Visit Santa at the Al Ringling Theater 11-2 every Saturday until Christmas.
Shop Extended Shopping Hours stores open until 7pm Weeknights
December 15-23
Our over 40 locally owned and operated businesses are always ready to serve and help you with your Christmas shopping. Don't have enough time during the day to swing through town? Not a problem. Businesses will have extended hours to aid you in finding those precious gifts for the stocking or under the Christmas tree. Shop your favorite Downtown Baraboo Stores with extended hours until 7pm.
Date Night in Downtown Baraboo
Friday, December 23
Sneak Away for a special "date night" in Downtown Baraboo to not only escape and enjoy an evening with that special someone, but also finish up your holiday shopping. Grab last-minute stocking stuffers from your favorite locally owned stores and enjoy drink and food specials at your favorite establishments.
More Holiday Magic in Downtown Baraboo
Monday, December 26th to Saturday, December 31st
Shop Downtown Baraboo for all the after Holiday specials and some super fun activities.