Spring Fair on the Square
Saturday, May 13th, 2023: 9:00am – 4:00pm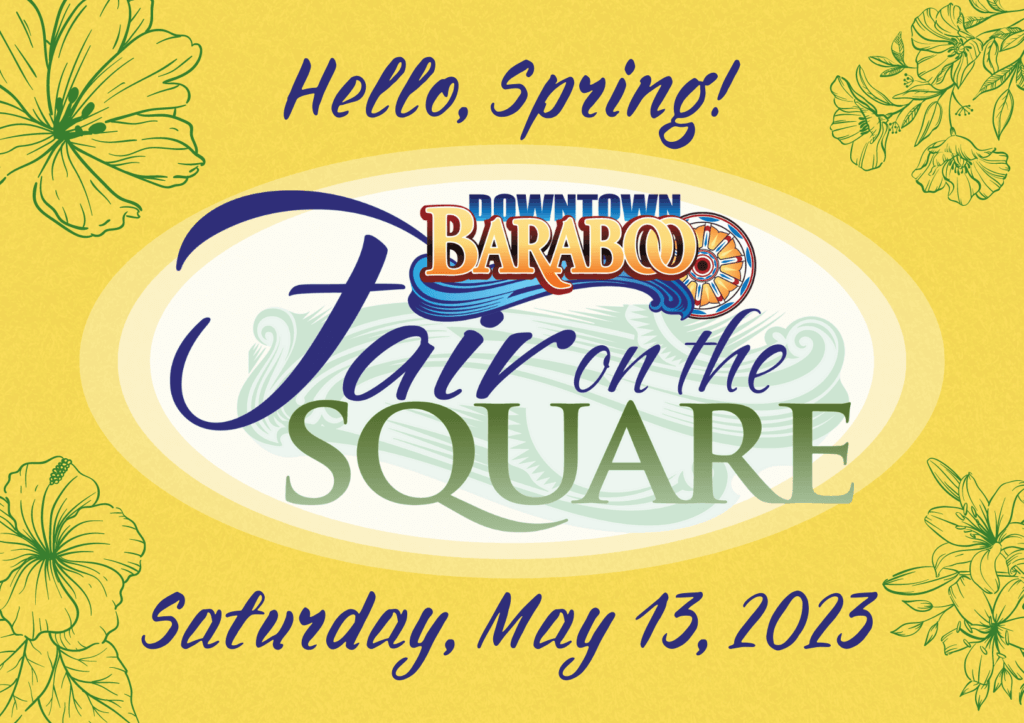 Taking place on Saturday, May 13th from 9:00am until 4:00pm, we are excited to welcome back one of downtown Baraboo's biggest spectacles. The Fair on the Square is a one-day event like no other. A tradition for over 30 years, thousands of visitors descend upon the downtown square to participate in the festivities and see some of the most elegant handmade crafts. Over 170 crafters, artists, and photographers participate to sell and exhibit their original products made by them. Furthermore, locally grown fresh produce will be available to purchase at the Baraboo Farmer's Market!

In addition to the showcasing of countless handcrafted goods, the Fair on the Square provides a stage for some of the most talented performers in the community. Musicians, acrobats, magicians, face painters (and more), there is something to entice everyone, from the young child to the child at heart. Aside from the remarkable talent to ears and eyes, the taste senses will not go unnoticed. A wide variety of food vendors cooking up delectable sandwiches as well as sweet treats will get you energized and ready to explore more of the square and downtown Baraboo.

This year's featured performers are:
To Be Determined. Stay tuned as we get closer!
Applications for Crafters/Artisans is Live! The link to the form can be found here:
https://docs.google.com/forms/d/e/1FAIpQLScvcpLBaPV0rTrCxalIKI7D1jLCLPXTAri_mMhnk1G87OpZXA/viewform?usp=pp_url
Community Court Vendor Application:
https://docs.google.com/forms/d/e/1FAIpQLScLEXEkMaoZE-K0YooBtNCVWAk7WmP5rWMRKYk7_etxrM5Y0g/viewform?usp=pp_url
Food Vendor Application:
https://docs.google.com/forms/d/e/1FAIpQLSe-deMccB22dnpOdSQF7-LLnKp_XJL9K2HxfeQzHHjOYo_uRA/viewform?usp=pp_url