Welcome, Fall: Fall Fair on the Square
October 3, 2022
By: Seth Taft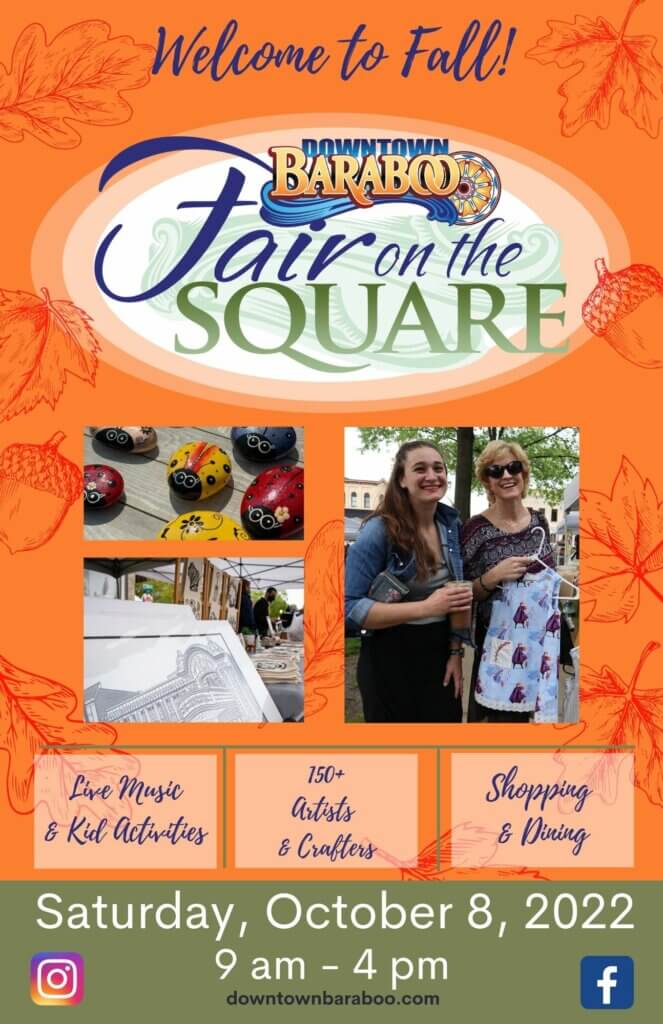 Welcome, October. The time of year where warm, summery weather is replaced with the brisk air, tree leaves transcend from peak greens to hues of bright yellow, flaming orange, and blood red. A setting where t-shirts and shorts are switched out to jackets, flannels, and pants. Soups and hot meals are welcomed at all tables, apple cider, hot chocolate all savored over warm campfires. For the historic downtown Baraboo community, it also means we greet these things and more with our Fall Fair on the Square: The cities' coronation that bids adieu to our prosperous summer and welcomes all things fall. This special edition blog highlights some of the finest things our annual autumn tradition has to offer you, your friends and family.
Over 170 Crafters and Artisans
Make no mistake: The Fall Fair on the Square is the ultimate stage for the finest of handmade goods. With over 170 different small businesses taking over the downtown streets, these talented individuals consist of locals and non-locals, some as far as Florida! Fine knitted and crocheted items, woodcarvings, art, photography, authors, candies, it's all for the taking to enjoy and purchase.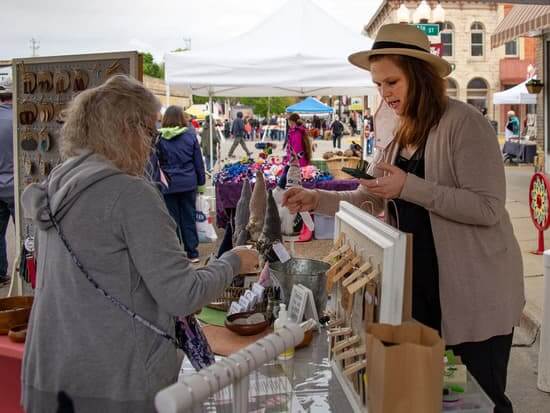 Community Court and Food Street
The Fall Fair is also host to incredible non-profit organizations that help enrich the Baraboo community. This year is the largest community court to date: Hosting over a dozen organizations representing Sauk County history, philanthropic work at the International Crane Foundation, and honoring our veterans. We also have the pleasure of welcoming the creativity and fine arts represented by the Baraboo Theatre Guild and Spirit Lake Arts.
On the other side of the street is the tastiest of foods. With over eight different food trailers and tents to choose, the menu options are endless. Fresh gyros, hot cheeseburgers, corn dogs, ice cream, kettle corn, hot almonds, and street tacos, it's all mouth-watering and delectable. And if that's not enough to choose from, all the downtown Baraboo restaurants are ready to welcome you!
Hands-On Activities and Live Performances
The Fair on the Square isn't just about walking around, it's also about being immersed with an array of activities for all to enjoy. Whether for the child or the child at heart, we have something for everyone.
The Baraboo Children's Museum will be on the courthouse lawn with hands-on activities and opportunities to get the children busting with creativity and take something home. Give your children a moment to get some energy out of their system and let them escape into the bounce house. Local celebrity TJ Howell will have regular performances on 3rd Street that will captivate the crowd in awe, laugh and clap. There will also be opportunity to get your face painted!
Meanwhile, back on the courthouse lawn, live music will serenade to all who partake in the day. These live performances are conducted by some of the most talented musicians that are both local and non-local. For the 2022 Fall Fair on the Square, we are delighted to welcome Sam Ness as he will perform beautiful, original tunes. In the afternoon, The Guthries will be playing original and cover music. These are performances you will wish to witness!
Farmer's Market
Another feature is the Farmer's Market. The Baraboo Farmer's Market is regularly held on Wednesdays and Saturdays from 7:30am until 12:30pm. We are honored and delighted this wonderful group of farmers who cultivate great, local produce to sell to you and serve in delicious meals at home. Located on Oak Street between 4th and 5th Streets, bring a bag and purchase produce, plants, and much more from these heartwarming people.
Downtown Businesses
The downtown businesses and services will also be graciously hosting sales and specials throughout the day. Walk through their doors and be greeted by warm smiles and jovial conversations. Peruse their aisles and see what excitement lies on each shelf.
All the above only describes a snippet of what the Fair on the Square truly offers. As the sun shines brightly overhead, the crisp autumn air envelops us to walk and enjoy downtown Baraboo. This gemstone event will showcase what makes Baraboo magical. Whether it's your first time or a seasoned regular who embarks in the festivities, we are excited to welcome one and all to this longstanding tradition.
We look forward to seeing you on Saturday, October 8th from 9:00am until 4:00pm for the 2022 Fall Fair on the Square.