Small Town Christmas Shopping Experience
The job, the kids, schools, dinners, keeping the house at least a little bit presentable. Maybe you're hosting this year, which means a maelstrom of cleaning to do on top of everything else. Even if not, there's still cookies to bake and meals to cook – you can't just show up at Aunt Betty's emptyhanded! – and the school play and some parties and…the list is just endless!
Life is busy, now there's non-stop shopping for the holidays. Yay! Online shopping seems great until you add in the delivery costs and the fact that you're relying on a picture to know what you're getting. And big box stores sell all the same things everyone's already seen,
but how else will you get it all done?
Take a deep breath. This doesn't have to be a burden. We've got a solution for you. Not just a way to get it done, but to relax at the same time.
What if there was a place you could get all – yes, I said all – your Christmas shopping done in a day, without any hyper-xeroxed big box store plastics in the mix? Where you can relax, stroll, and enjoy a day of shopping?
You'll find that in Baraboo, Wisconsin. The small-town shopping experience at its best.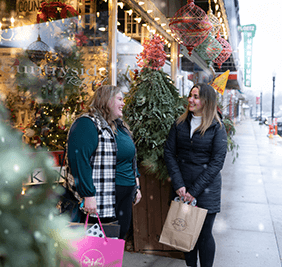 First thing you'll notice is the atmosphere. It's friendly, welcoming, and ultimately charming. A Hallmark downtown square surrounded by historic architecture with Christmas music drifting all around you.
Next, you can find anything you want. Books, toys, vintage collectibles, clothes, jewelry, knick-knacks, tools, furniture, games, art, wine. There are so many different dining options, and coffee, tea, hot chocolate. Places to sit and relax halfway through the day and go over the gameplan again.
Remember that kitchen geegaw your great grandma had, that she always had out and you never really understood but it's always meant great grandma to you? Mom would love one of those. Try Bekah Kate's. They've got everything, and if you need help, they'll come right out from behind the counter to show you what you're looking for.
And if they don't have it, they'll suggest someplace else. Because it's small-town shopping in Baraboo.
Village Booksmith, same thing (with books, of course, not kitchen tools). Spirit Lake Trading. Jeweler's Edge. Eclectic Treasures. They'll help you find that one hard to find item you're looking for, and they
have gifts you won't find anywhere else. Gifts that will have the giftee asking: Where did you find this?
And the second weekend in December is always, the Very Merry Holiday Fair, just a few blocks away in the Baraboo Arts Banquet and Convention Center. This is not your average craft fair. These is an art fair with handcrafted gifts by talented artists, artisans, authors and even a chocolatier, and all of it will stun on Christmas Day.
All the shopping you need, at your own pace. A community full of friendly people, and an atmosphere that reminds you that Christmas is something special to enjoy.
That's the small-town shopping experience in Baraboo, Wisconsin. Believe and experience the very merry holiday magic with us!