Have your own Hallmark Moment in Baraboo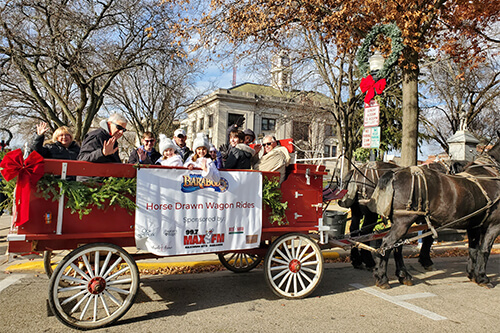 It's like you've fallen into your very own Hallmark movie.
Opening scene: Downtown, in a place called Baraboo, Wisconsin. Sidewalks lined with historic architecture overhead, storefronts and window displays below. Wreathes hang from streetlights, Christmas music drifts from overhead speakers. There might be a flurry or two of snow, just for effect.
Enter: You.
You find yourself standing on a street corner, looking around you in… a little bit of wonder, maybe? A little bit of confusion? (Remember, you're in a Hallmark movie!) You don't find this kind of place in a big city. There's a bookstore and a music store, a café and an Italian restaurant. Boutiques, and little storefronts with names like Sally, Ardyth, and Bekah. Local places with local people. This small town is unique and begging to be explored.
The sidewalk is busy, but not crowded. Happy people are chatting, strolling, a little excited to get to that next storefront and followed by a mildly amused dad, pretending he's just along for the ride (but really not) and saying "Hi" as they skip by. There are kids running around in a park across the street, and parents chatting while holding cups of coffee and hot chocolate.
Now what? Your story is here, somewhere. There are people to meet, and stores to browse, and… oh, the folks back home are never going to see these Christmas presents coming! You start to walk one way, then stop and turn around. Where first?
Never mind. There's time. Antiques first, then the fair-trade store, followed by the bookstore, with a double back to see what you missed, unless you find something else around the next corner (Which you will).
From now on, "Small town charm" will always remind you of Baraboo. This is a place right out of a Hallmark movie, and you're in it. Which character are you? The lead, about to find adventure? The pushy best friend? The unwittingly wise ever-present figure who says just the right thing at just the right time without even knowing?
That's up to you. But just an FYI, you'll have to bring your own drama. Or maybe don't.
And… cut. That's a wrap on your very own opening scene. Now go through a door, say hi, and see what you can find!